Coffee
COFFEE BEANS WITH LESS MILEAGE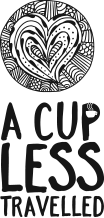 COFFEE GROWN AND ROASTED CLOSE TO HOME
Did you know that Australia and the South Pacific grown some amazing coffee? A Cup Less Travelled is dedicated to showcasing great growers, close to home, who are passionate about what they do... Great coffee!

We aim to highlight these beans and the families who farm and roast them to perfection.
Why buy beans from tens of thousands of kilometres away?
<!–split –>